1941
The El Cortez Is Born
J.C. Grayson, Marion Hicks and J.K. Houssels built El Cortez Hotel and Casino. Constructed for $245,000, it was Downtown Las Vegas' first major resort.
1945
The El Cortez Is Sold
Infamous mobsters Bugsy Siegel, Moe Sedway, Gus Greenbaum, and Meyer Lansky bought El Cortez and used it to train the original employees who opened the Flamingo Hotel & Casino in 1946.
Interior Remodel
Wayne McAllister was hired to remodel the Interior of the El Cortez while primarily leaving the exterior in its original 1941 condition.
1946
Houssels Reacquired The El Cortez
John Kell Houssels reacquired the El Cortez and with Ray Salmon announced a $250,000 expansion in May of 1946 that included a barber shop, nightclub, swimming pool and a 4-story wing.
1950
Remodeled
El Cortez remodeled and the cocktail lounge renamed to "The Rose Room."
1952
Grand Opening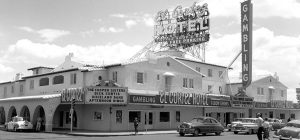 The "new" Hotel El Cortez held its grand opening. Bill Moore was the general manager and Tom Douglas remodeled and redecorated the property. The bar was renamed "Buccaneer Bar" and cocktail waitresses wore pirate costumes.
Marquee Installed
El Cortez installed its neon arrow, marquee, and signature large roof sign – which are still Downtown landmarks today.
1953
Supper Club Renamed
"The Supper Club" was renamed "The Pirate's Den". The dinner theater was decorated with paintings of "pretty pirates" by Denny Stephenson. The casino started using pirate graphics in its advertising.
1955
Only Female Maître D'
The Pirate Den's maître d' was Pat Gallagher, the only female maître d' in Las Vegas at the time.
1957
Goodbye Pirate Theme
Jack Smith became El Cortez General Manager when J.K. Houssells took over the property. He launched several changes, eliminated the pirate theme and renamed the dinner theater "The Cirque Room."
1958
Celebrity Lounge Opened
"The Celebrity Lounge" opened and featured continuous entertainment from 5:30 p.m. to 6 a.m. From the lounge, Jerry Dexter hosted "El Cortez Calling" on Keno 1460 from 1-3 a.m. live.
1960
Lounge Renamed
The lounge was renamed "The V.I.P. Lounge."
1963
Jackie Gaughan Purchases El Cortez
Gaming Pioneer and Nebraska legend, Jackie Gaughan, bought the El Cortez from J.K. Houssels as part of a downtown casino empire that included The Las Vegas Club, Plaza, Western and Gold Spike.
1980
Tower II Is Built
The 15-story hotel tower was built and Jackie Gaughan and his wife, Bertie, turned the top floor into their private home where they lived for the next 30+ years.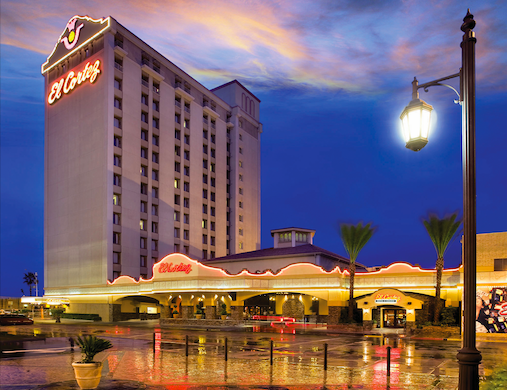 2006
El Cortez Renovated
El Cortez renovated the casino and guest room interiors.
2007
Fremont East Entertainment District.
Fremont East Entertainment District became official.
2008
Ike Gaming, Inc
El Cortez sold to Ike Gaming, Inc.
2009
Cabana Suites
Long-time business partner and friend, Kenny Epstein, purchased El Cortez from Jackie and the 64-room Cabana Suites were completed in the former Ogden House – bringing the total room count to its current 364.
2010
"Design A Suite"
El Cortez held the "Design A Suite" competition.
2013
Life is Beautiful
The inception year of  Life Is Beautiful Music Festival.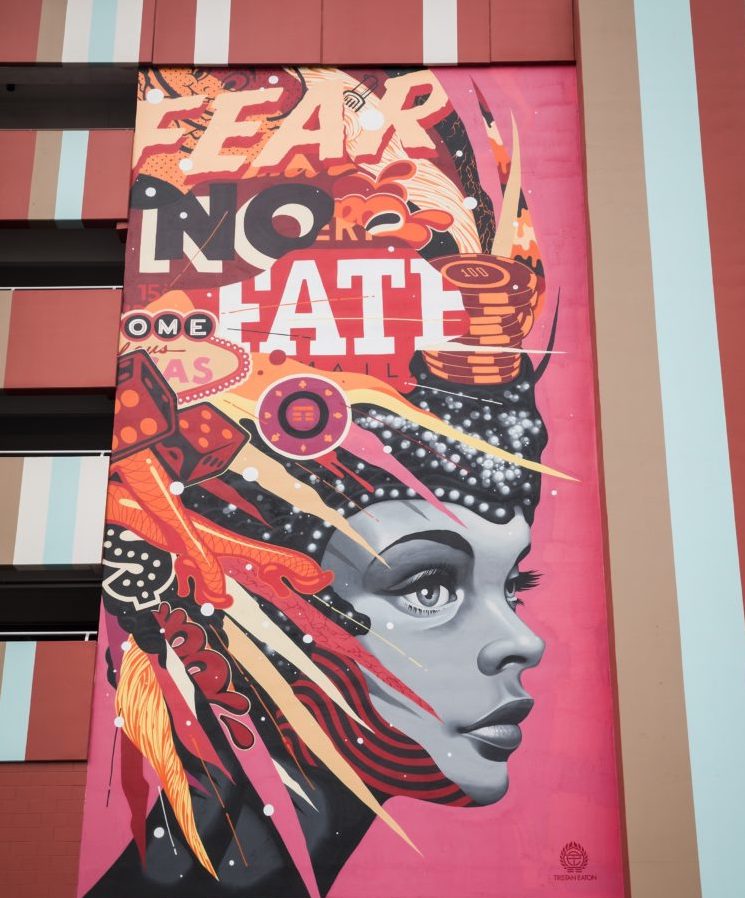 National Register of Historic Places
El Cortez was the first Hotel & Casino to be placed on the National Register of Historic Places. The property was one of the few casinos to have never changed its exterior facade in Las Vegas – retaining the same signage and Spanish ranch themed architecture for over 80 years.
2014
The Jackie Gaughan Suite
Jackie Gaughan passed away and El Cortez preserved a piece of history by designating his 2,700 sq. ft. penthouse home, "The Jackie Gaughan Suite."
2015
Siegel's 1941
Siegel's 1941 restaurant opened and served classic American fare, including a world-famous $16.95 prime rib special and a lineup of Mob themed burgers that honored our infamous history.
2016
El Cortez celebrates its 75-Year Anniversary
November 1st the property hosted a 75th Anniversary Ceremony where Mayor Carolyn Goodman proclaimed it "El Cortez Day."
2018
Rooms Remodeled
Tower rooms and suites were remodeled.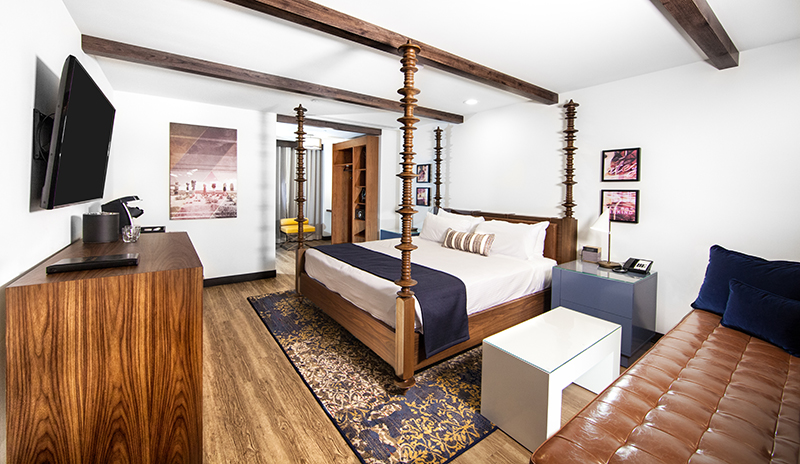 2020
80th Anniversary
El Cortez celebrated its 80th anniversary with the completion of a 2-year, $25 million renovation which included a new high limit room, an updated casino floor and completely remodeled Tower Premium Hotel Rooms.
2022
47 Hotel Rooms and Hallways Remodel
The original 47 Hotel Rooms and hallways underwent a complete remodel that brought modern comfort and style to some of the most historic rooms in town.