1941
The El Cortez Is Born
John Kell Houssels partnered with John Grayson from California, and Marion Hicks, a Los Angeles Architect and developer, to build and operate the El Cortez Hotel-Casino on East Fremont Street. Constructed for $245,000, it was Downtown Las Vegas' first major resort with 59 rooms and designed in a Spanish Ranch theme.
1945
The El Cortez Is Sold
Houssels & his partners sold the El Cortez to a Mid-West group that included Gus Greenbaum, Moe Sedway, & Bugsy Siegel (later investors in the 1946 Flamingo) & Dave Berman on behalf of Meyer Lansky for $600,000.
Interior Remodel
Wayne McAllister is hired to remodel the Interior of the El Cortez while primarily leaving the exterior in original 1941 condition.
1946
Houssels Reacquires The El Cortez
John Kell Houssels reacquires the El Cortez and with Ray Salmon announces a $250,000 expansion in May of 1946 including a barber shop, nightclub, swimming pool and a 4 story wing.
1950
Remodeled
El Cortez remodeled and the cocktail lounge renamed to the Rose Room.
1952
Grand Opening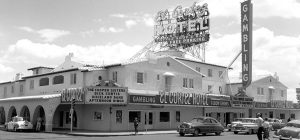 The "new" Hotel El Cortez held its grand opening. Bill Moore was the general manager, and Tom Douglas remodeled and redecorated the property, the bar was renamed "Buccaneer Bar," with cocktail waitresses wearing pirate costumes.
Marquee Installed
El Cortez installs its neon arrow, marquee, and signature large roof sign which are still downtown landmarks.
1953
Supper Club Renamed
The Supper Club was renamed the Pirate's Den. The dinner theater was decorated by paintings of "pretty pirates" by Denny Stephenson. The casino started using pirate graphics in its advertising.
1955
Only Female Maitre 'D
The Pirate Den's maitre 'd was Pat Gallagher, the only female maitre 'd in Las Vegas at the time.
1957
Goodbye Pirate Theme
Jack Smith became El Cortez General Manager when J.K. Houssells took over the property. He launched several changes, including eliminating the pirate theme and renaming the dinner theater the Cirque Room.
1958
Celebrity Lounge Opens
The Celebrity Lounge opened, featuring continuous entertainment 5:30 pm to 6 am; from the lounge, Jerry Dexter hosted "El Cortez Calling" on Keno 1460 from 1-3 am live.
1960
Lounge Renamed
The lounge was renamed the V.I.P. Lounge
1963
Jackie Gaughan Purchases El Cortez
Jackie Gaughan purchases the El Cortez from John Kell Houssels for $4,000,000.
1980
Tower II Is Built
The El Cortez Guest Tower II is built bringing the overall room count to 297.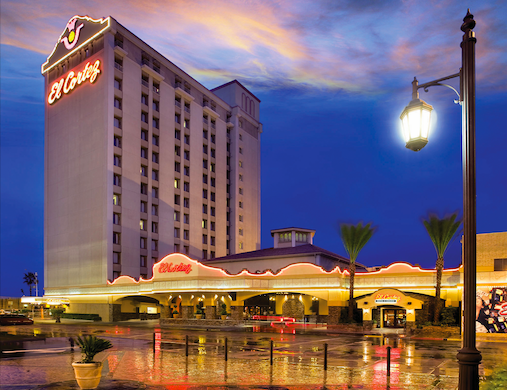 2006
El Cortez Renovates
El Cortez Renovates casino and guest room interiors.
2007
Fremont East Entertainment District.
Fremont East Entertainment District becomes official,
2008
Ike Gaming, Inc
El Cortez sold to Ike Gaming, Inc.
2009
Cabana Suites
El Cortez opens the 64 El Cortez Cabana Suites in the former Ogden Hotel bringing the room count to 364.
2010
"Design A Suite"
El Cortez holds the "Design A Suite" competition.
2013
Life is Beautiful
The inception year of  Life Is Beautiful Music Festival.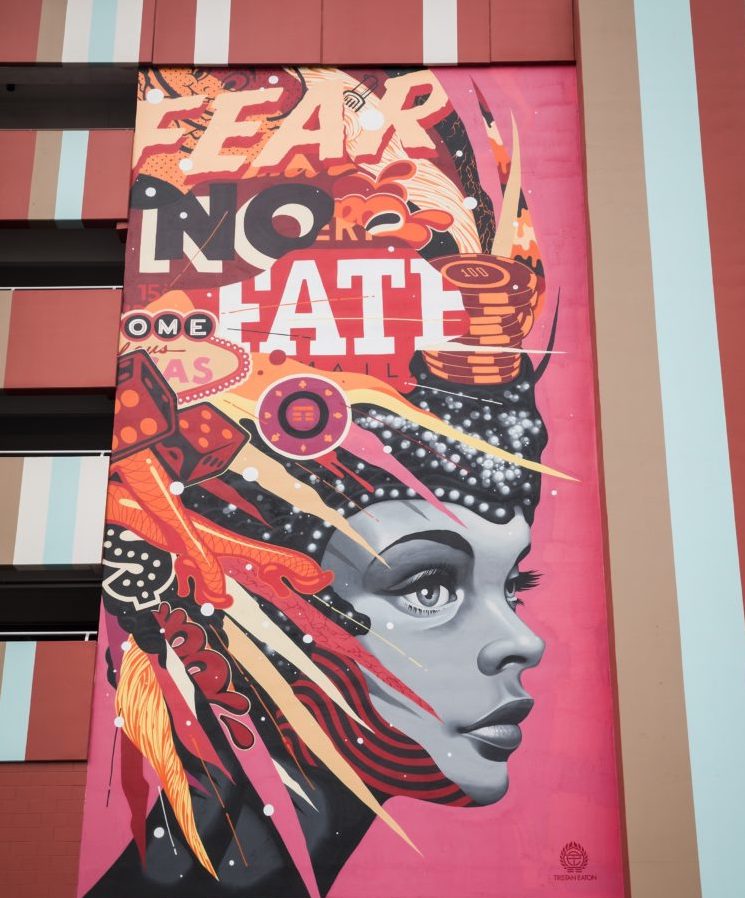 2015
Siegel's 1941
The grand opening of Siegel's 1941 and Ike's Bar inside the El Cortez.
2016
El Cortez celebrates its 75-Year Anniversary
El Cortez celebrates 75 years of turning players into winners.
2018
Rooms Remodeled
Remodeling of tower rooms and suites.