We're bringing back the early days of Vegas – when the lights had only just started to burn bright. At Siegel's 1941, we're bringing back that special moment in time. Enjoy a menu filled with skillfully-prepared classic dishes, indulge in some wine or cocktails. Siegel's 1941 at El Cortez is old-school cool, with a twist of sophisticated style.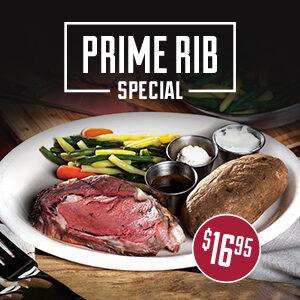 All Day Menu Overnight Menu Dessert Menu Cocktail Menu
A Prime Opportunity. Morning, Noon, Night.
When you're done tearing up the gaming floor, tear into a beautiful Prime Rib at Siegel's 1941 for only $16.95.
50+ Get 50% Off
On Wednesdays, from 6 am to 10 pm, guests over 50 years old receive 50% off their order from our special menu* at Siegel's 1941. Age brings wisdom, but wisdom is better with a side of fries.
Dessert & After-Dinner Drinks
Treat yourself to a little something sweet. Our chef has come up with some delicious variety of ways for you to do just that.
Fine Wines & Other Libations
Our experts have hand-chosen exquisite vintages and are more than ready to suggest something amazing that will pair perfectly with our menu selections.